Super Abrasive Tools – Introduction of Diamond and CBN Tools
Description of Diamond Tools
The use of a bonding will fix diamond powder (or CBN powder) which is a summary of diamond abrasion wheel and diamond grinding wheel.The grinding tools made by diamond and CBN abrasives.
The Subjects of Material for Diamond Tools
Tungsten Carbide
Carbide Tool
Ceramics
Cast Iron
Ferrite
Glass, Reinforced Glass Fiber
Quartz, Silicon, Crystal, Gem
Stones
Cement, Concrete, Asphalt
Tile
Plastics, Rubber
Asbestos, Refractory Material
Cubic Boron Nitride (CBN)
High Speed Steel
Tool Steel
Alloy Tool Steel
Bearing Steel
Stainless Steel
Chromium Steel
Heat-treated Steel
Special Alloy Steel
Heat-Resisted Steel
Special Cast Iron
Alnico
Inconel
Ti-Alloy
Ordering Information: Specification and Size
(A)Size Label for Diamond Wheel
E
The Thickness of A Hole Diameter
J
The Lowest Surface Diameter of A Wheel
K
A Surface Outer Diameter of Internal Side
L
Shank Length of Mounted Points
N
The Depth of Surplus Indentation
Q
Variables, Refer to The Diagram
S
The Angle of Outer Side or The Length of Cylinder
W
The Thickness and Width of Grinding Surface
X
The Thickness of Diamond Layer
Y
A Mount Diameter of Mounted wheel
(B)Specification Marking for Diamond Wheel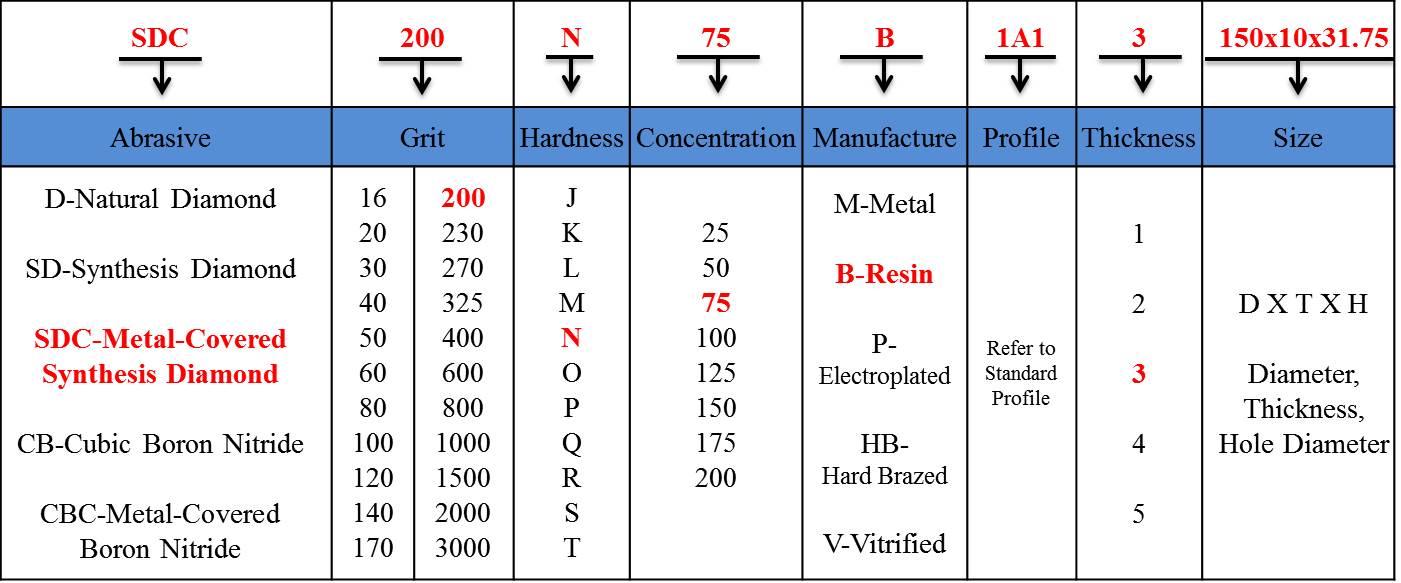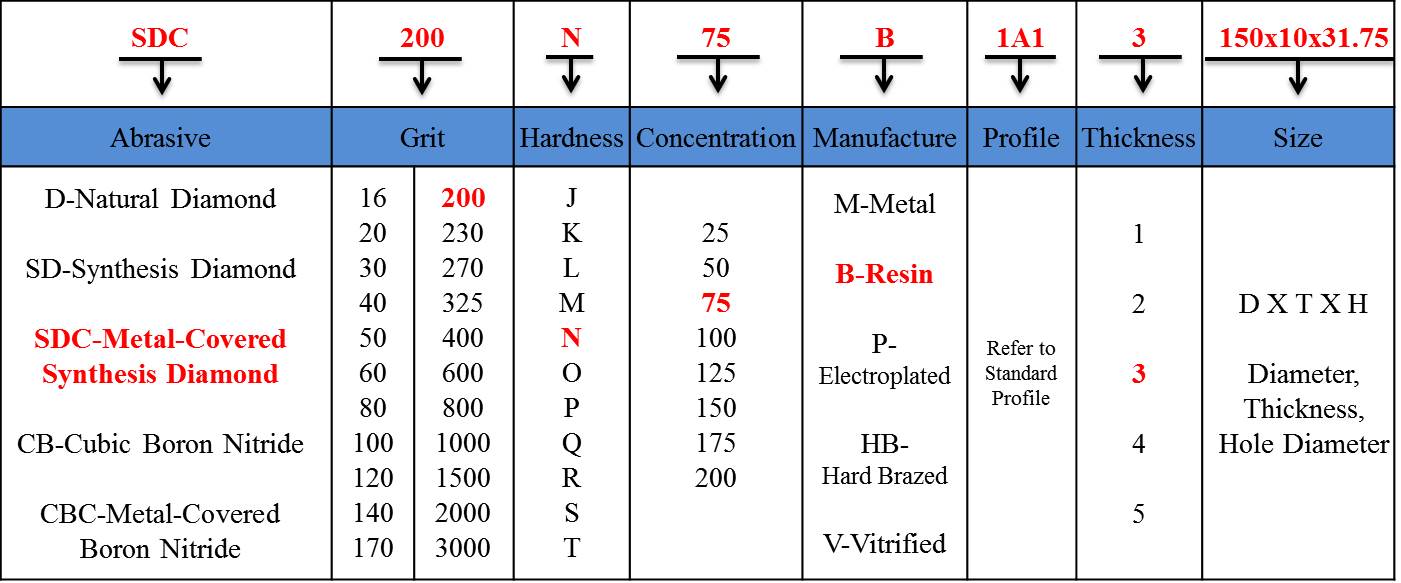 (C)Shapes Marking for Diamond Wheel

X
TYPE 1A1RSS : DxTxHxLxXxNxB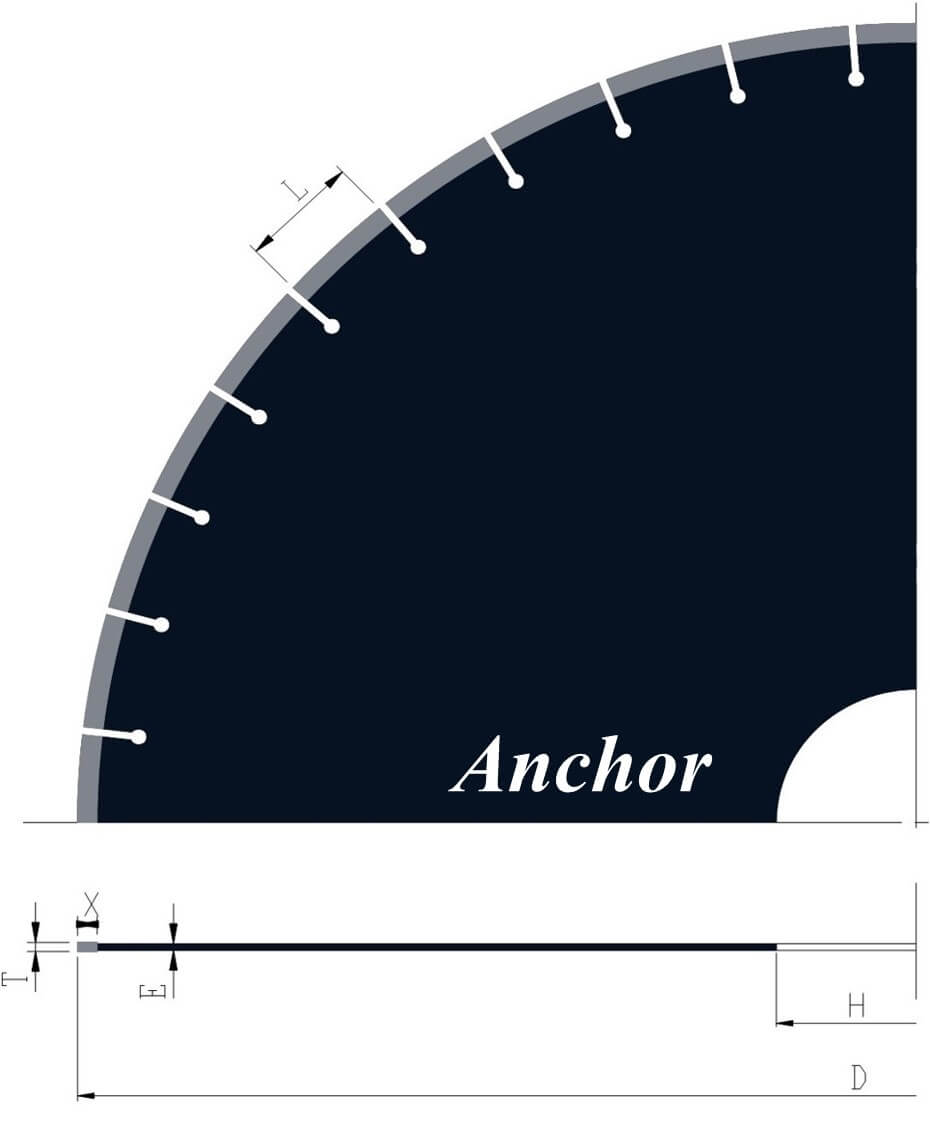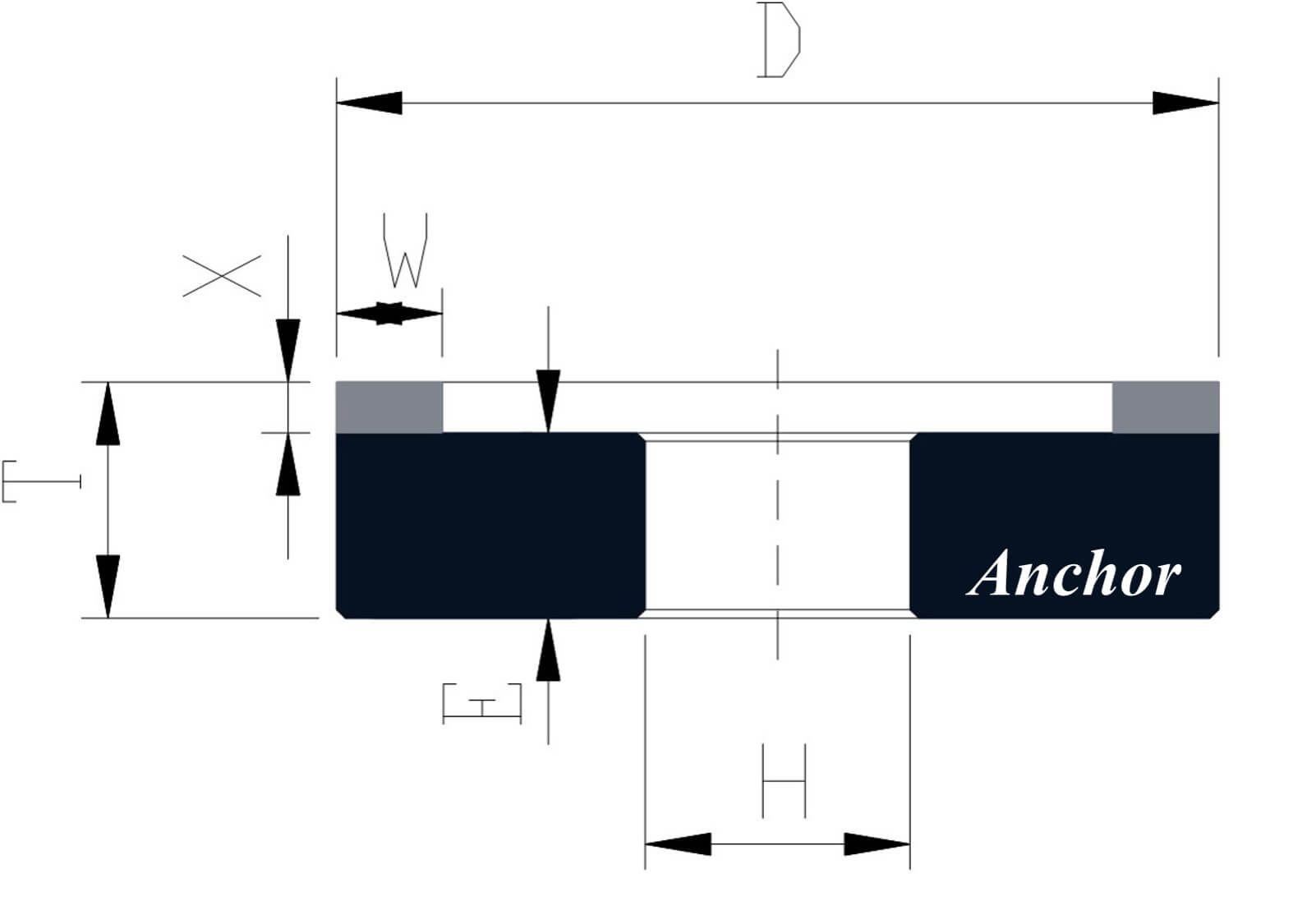 TYPE 2A2SX : DxTxHxLxWxXxNxV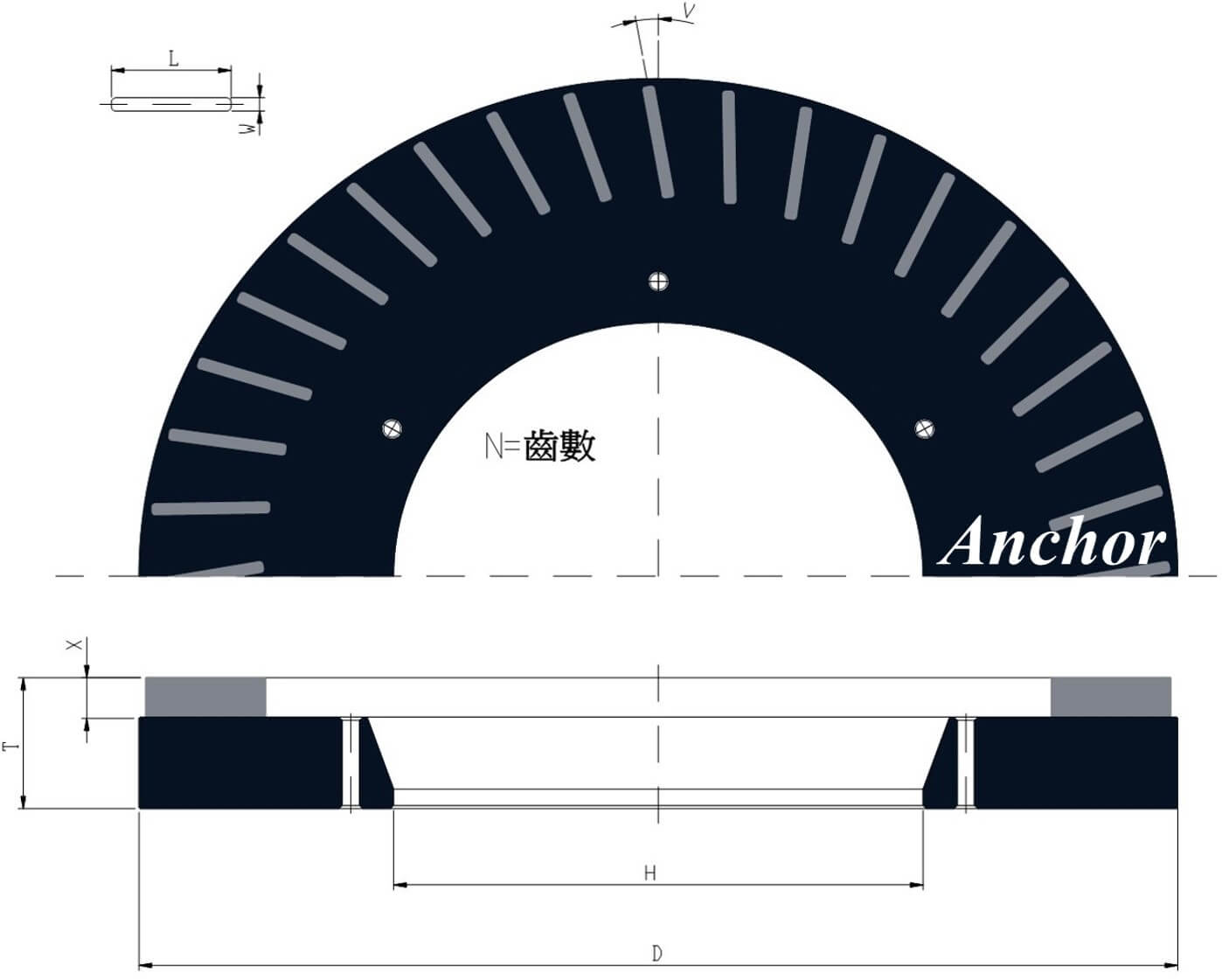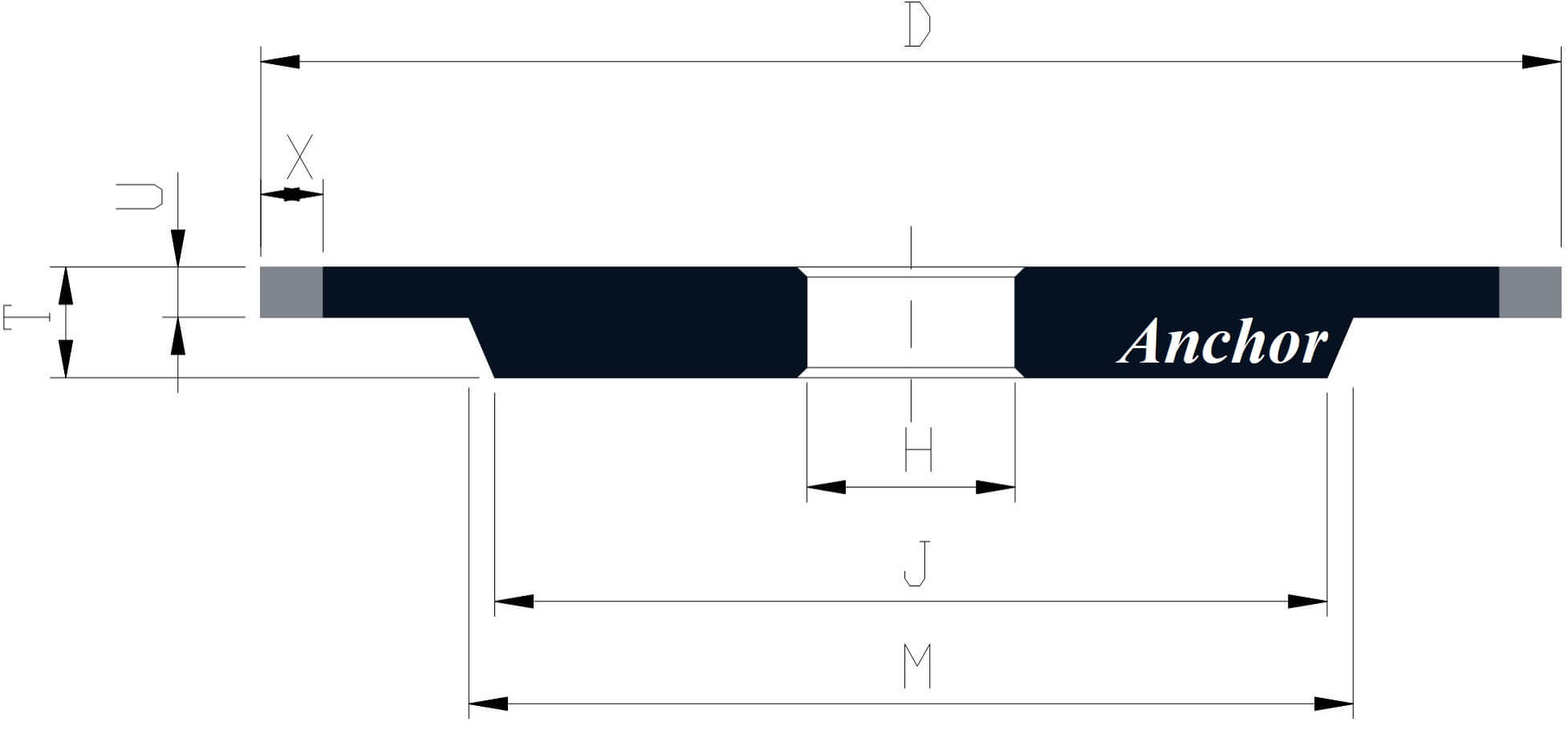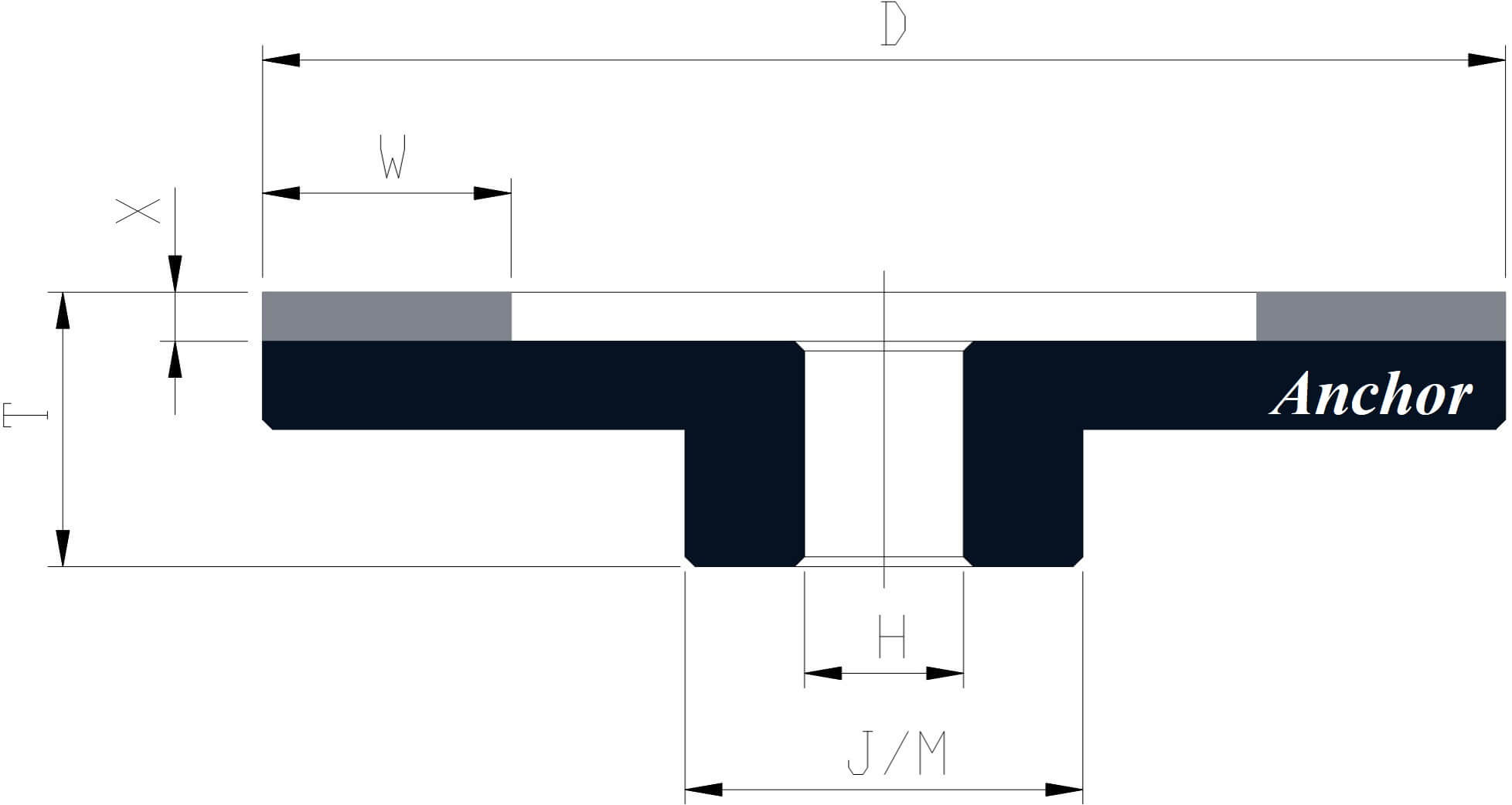 TYPE 3B1 : DxTxHxJxMxUxXxS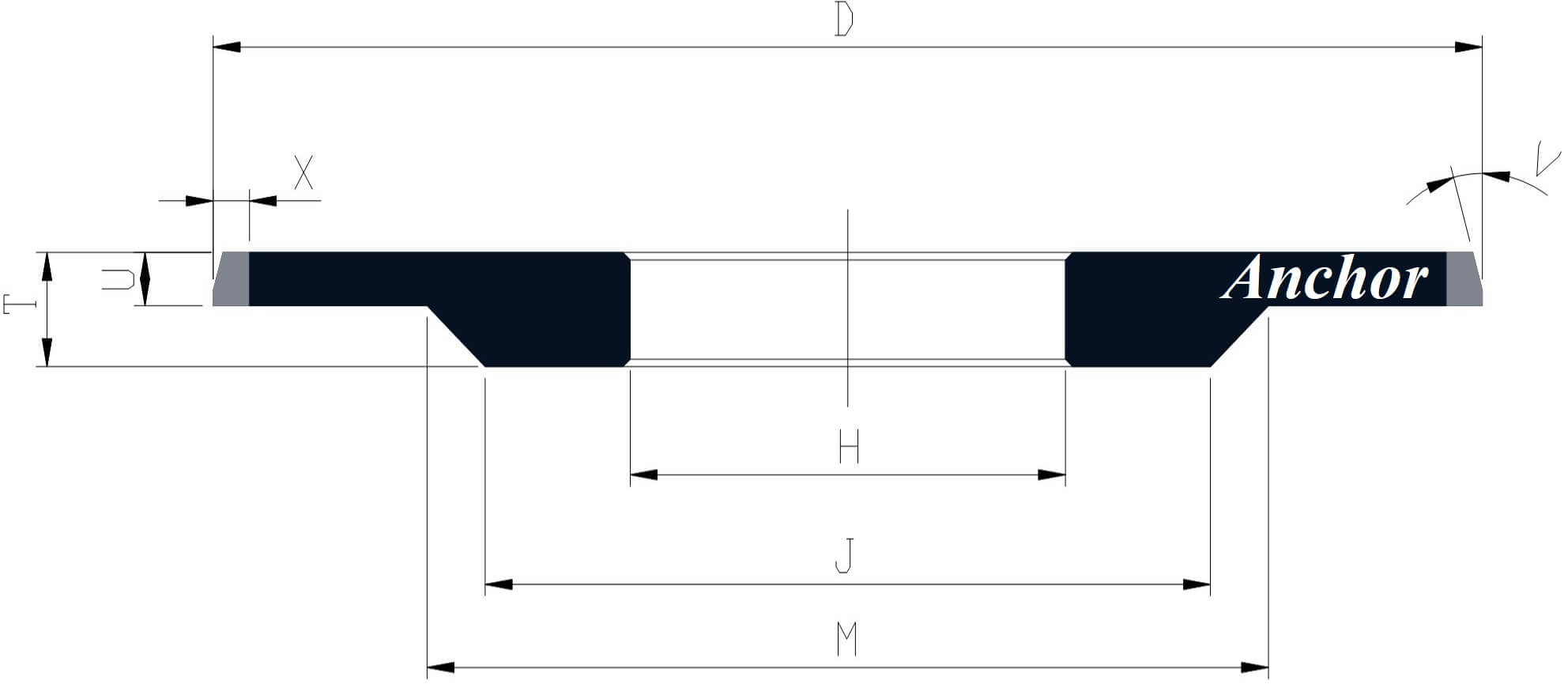 TYPE 3D1 : DxTxHxJxMxUxXxV

TYPE 3F1 : DxTxHxJxMxUxRxX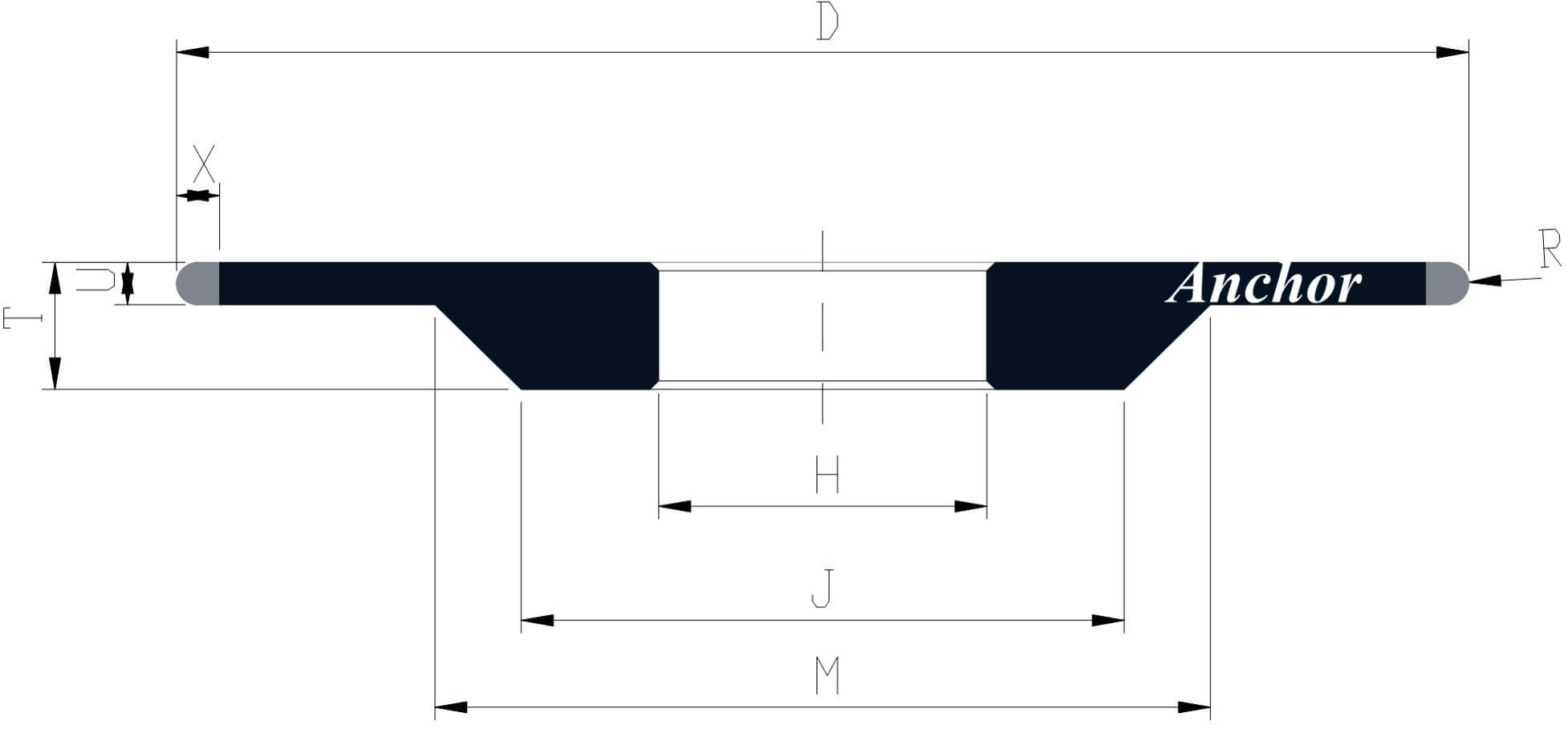 TYPE 3V1 : DxTxHxJxMxUxXxV

TYPE 3Y1 : DxTxHxJxMxUxXxV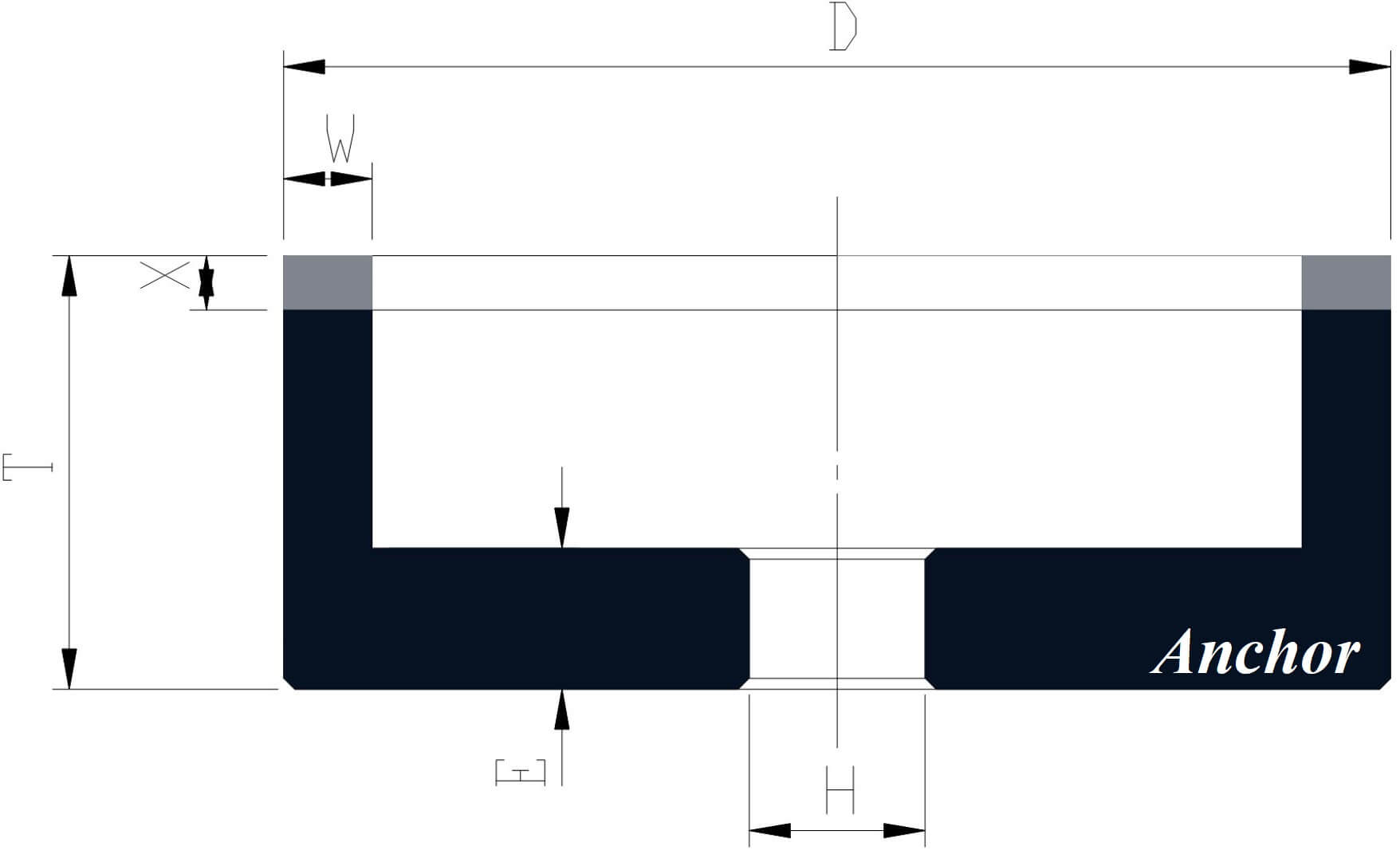 TYPE 6A2S : DxTxHxExLxWxXxN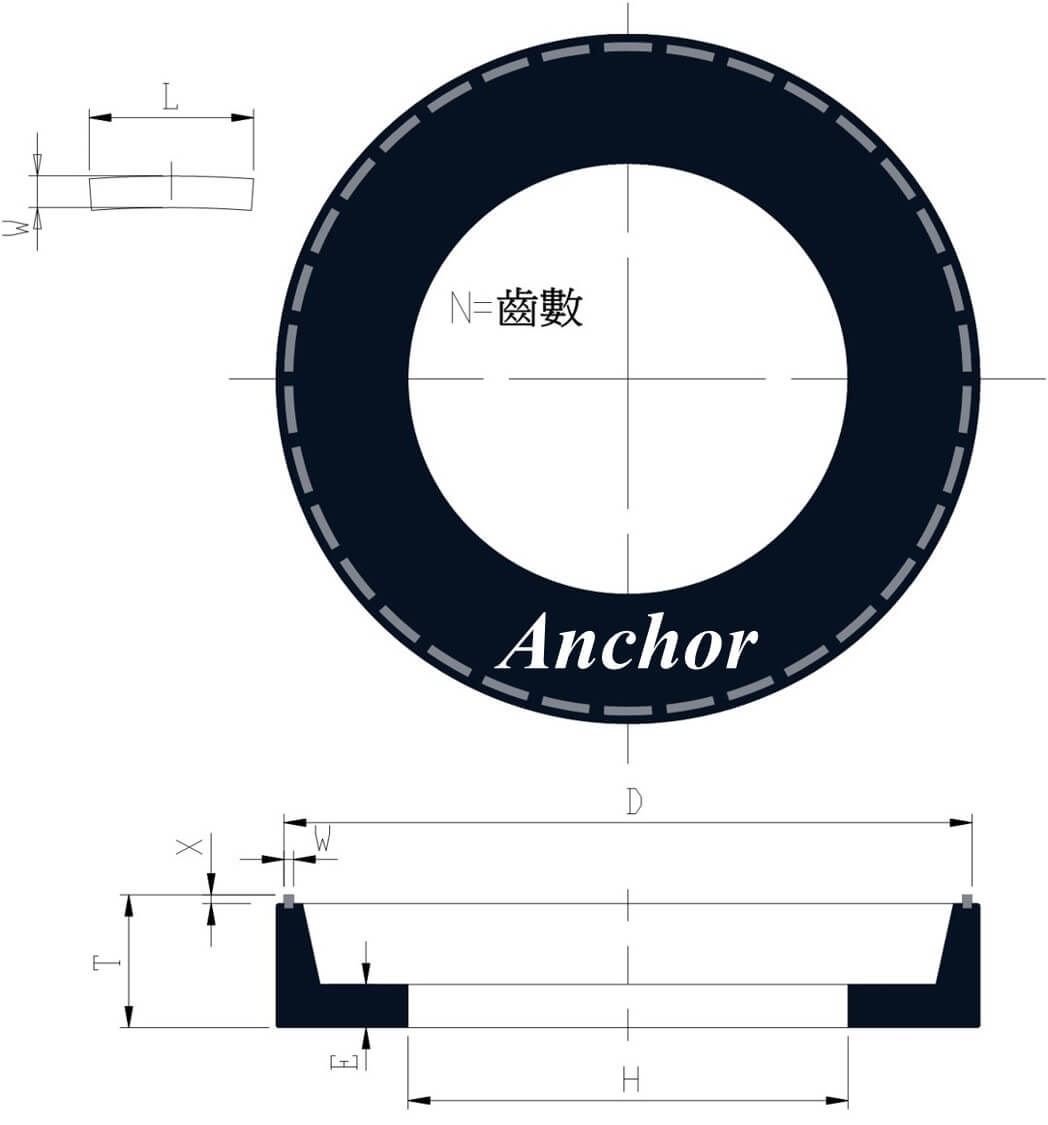 TYPE 6B2 : DxTxHxExKxWxXxV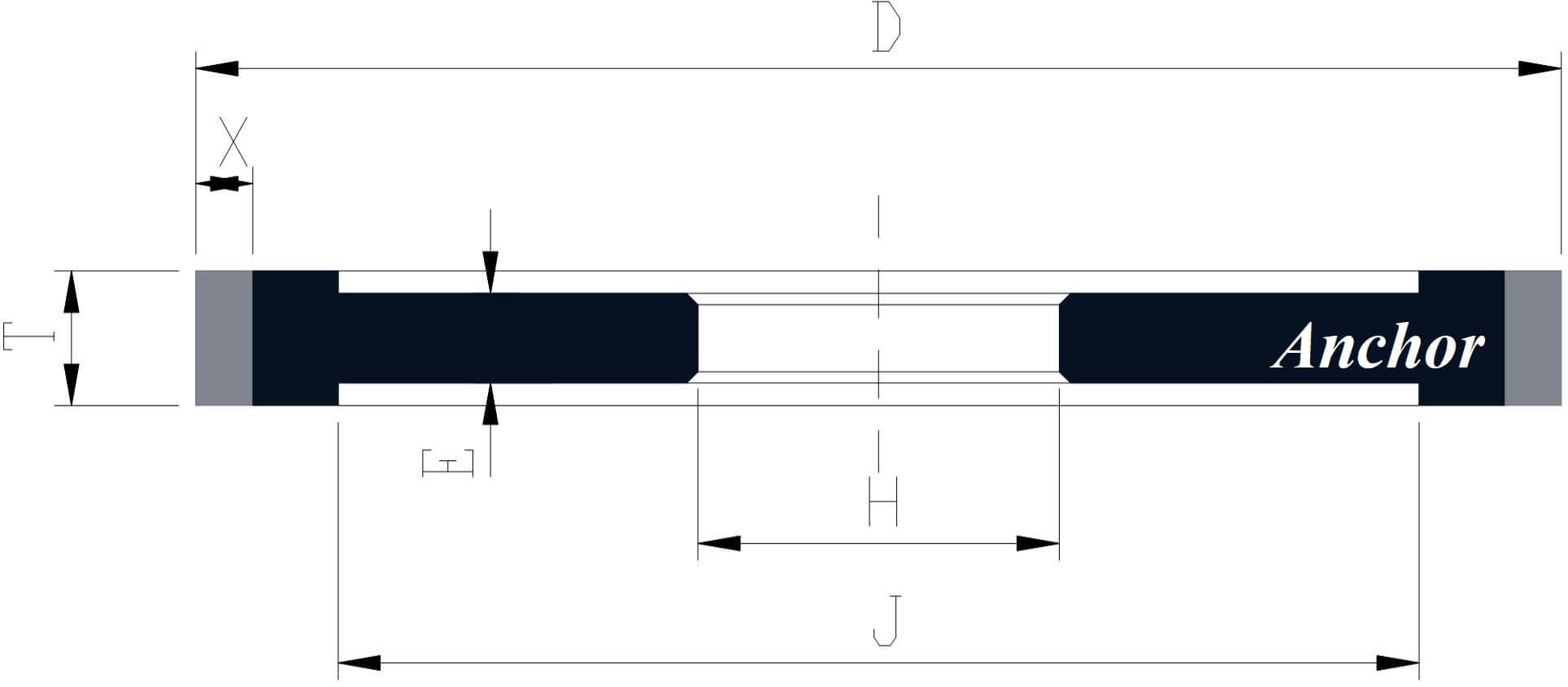 TYPE 11A1 : DxTxHxExKxJxUxX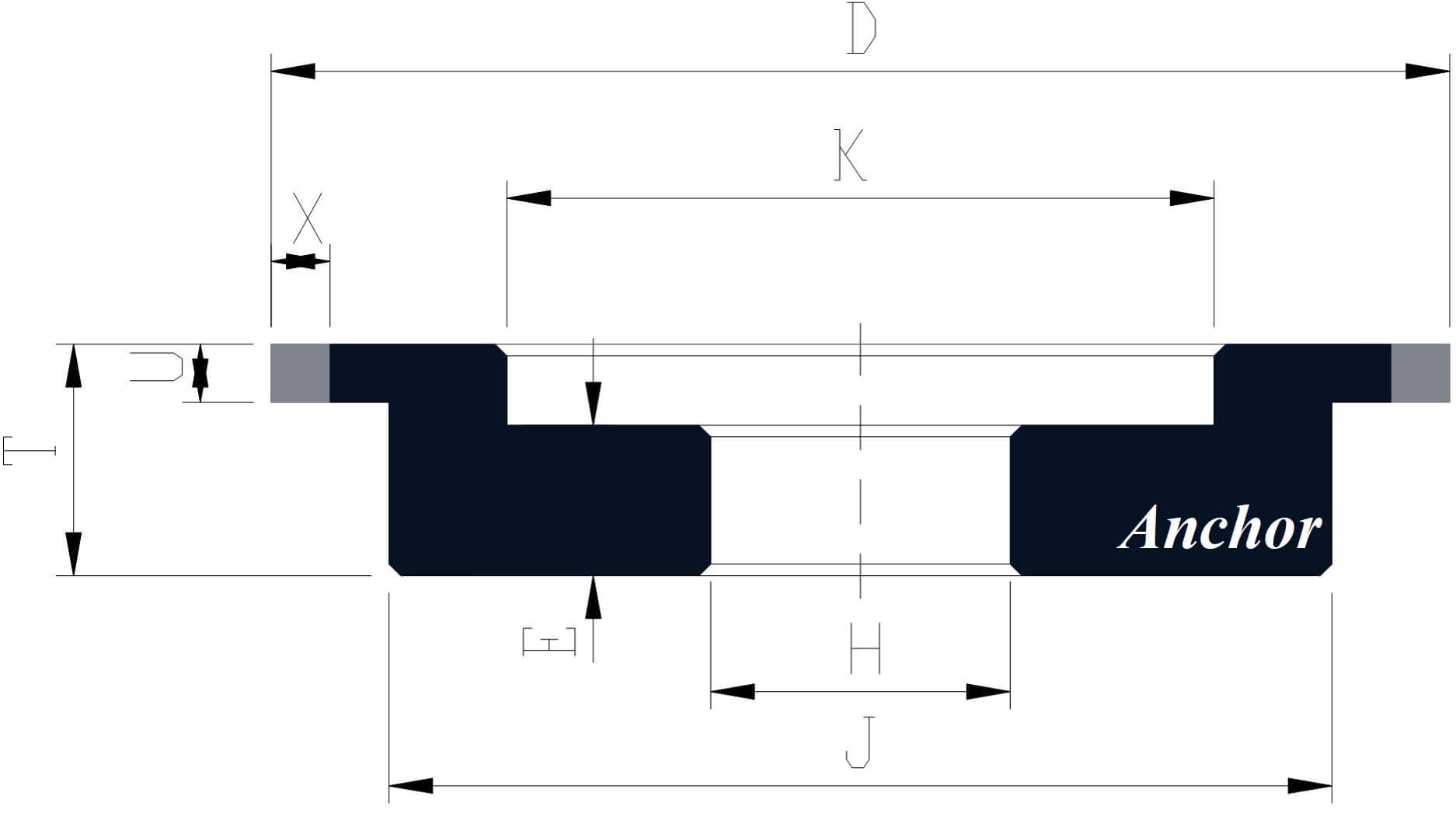 TYPE 11A2 : DxTxHxExKxJxWxX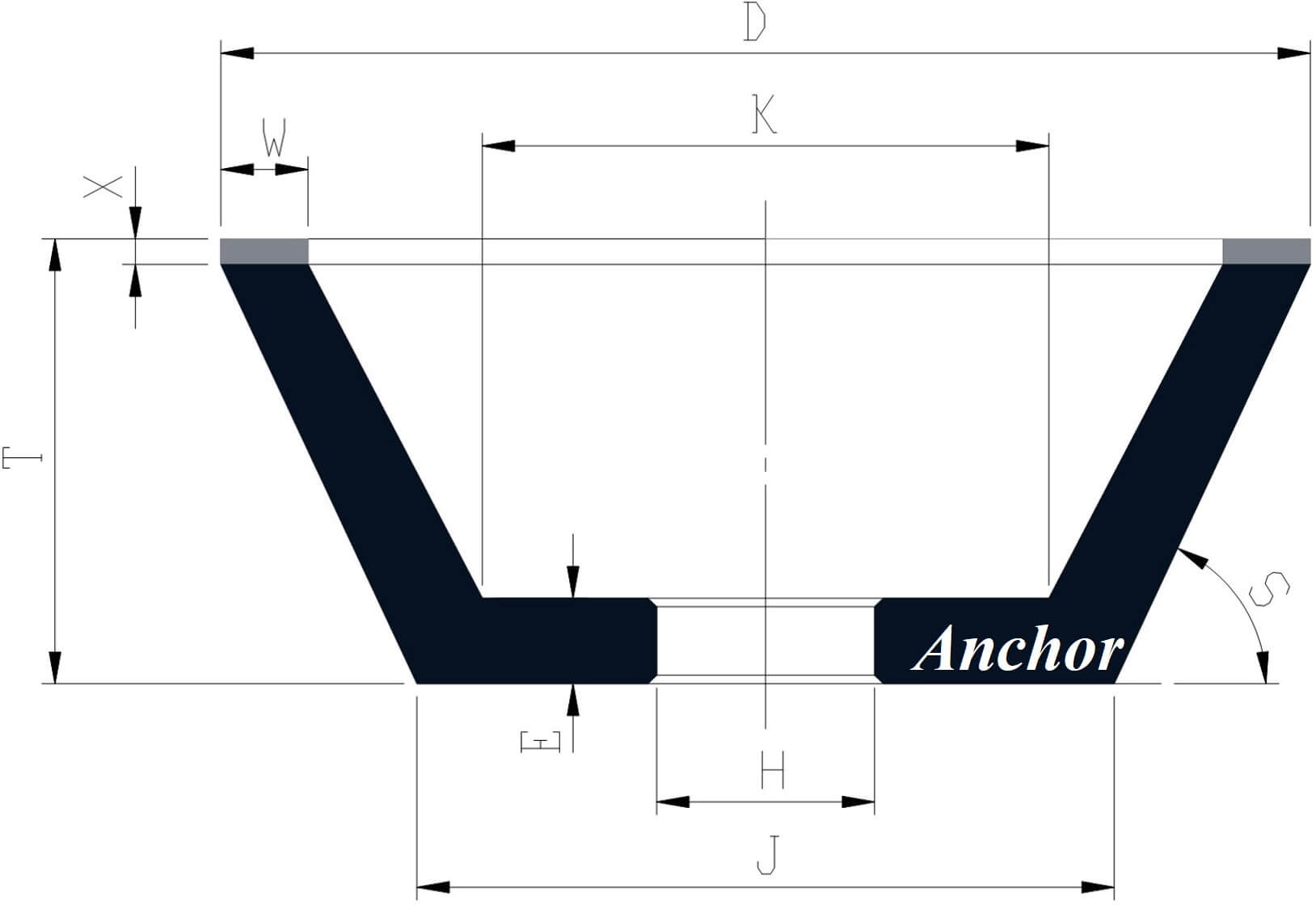 TYPE 11A9 : DxTxHxExKxJxUxX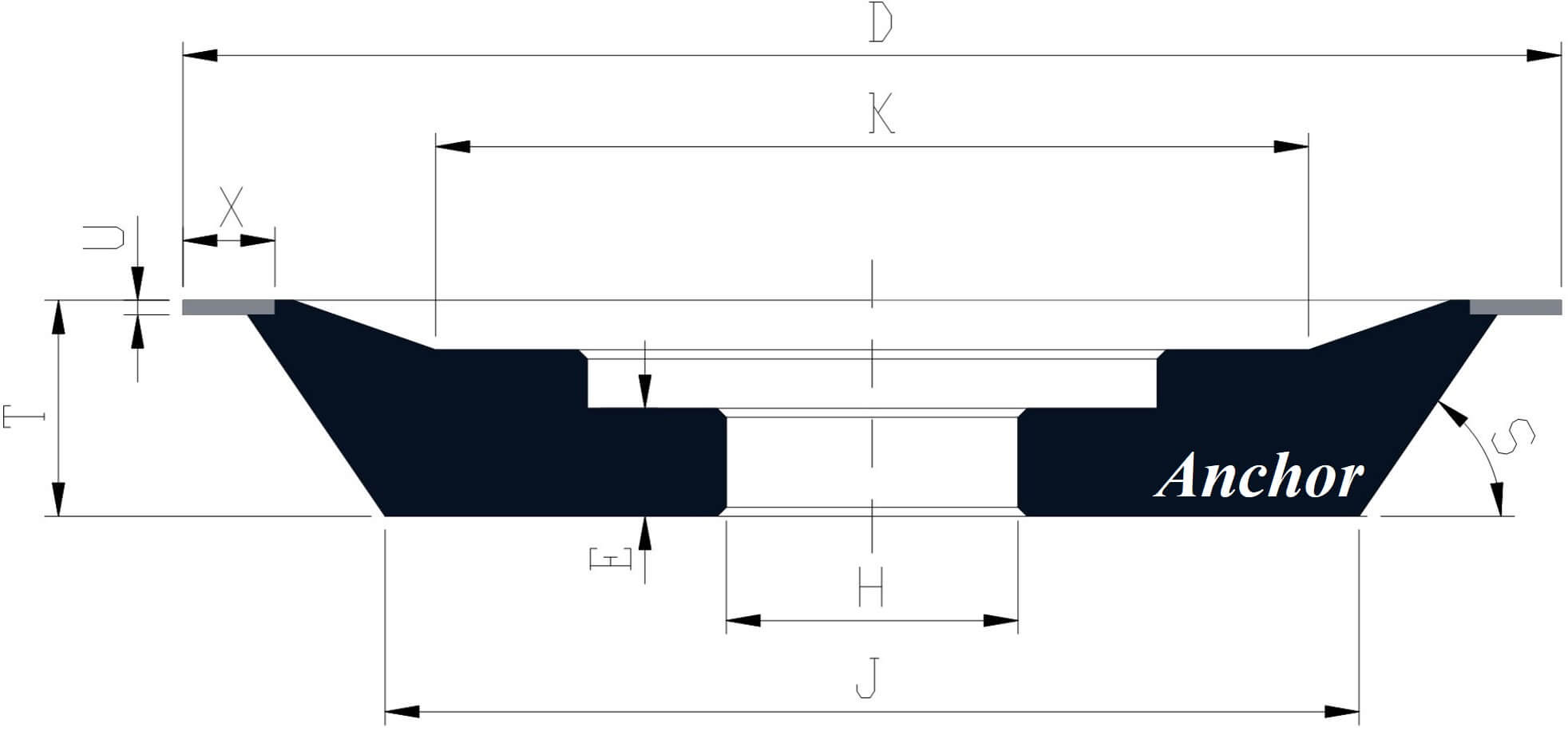 TYPE 11B1 : DxTxHxExKxJxUxXxV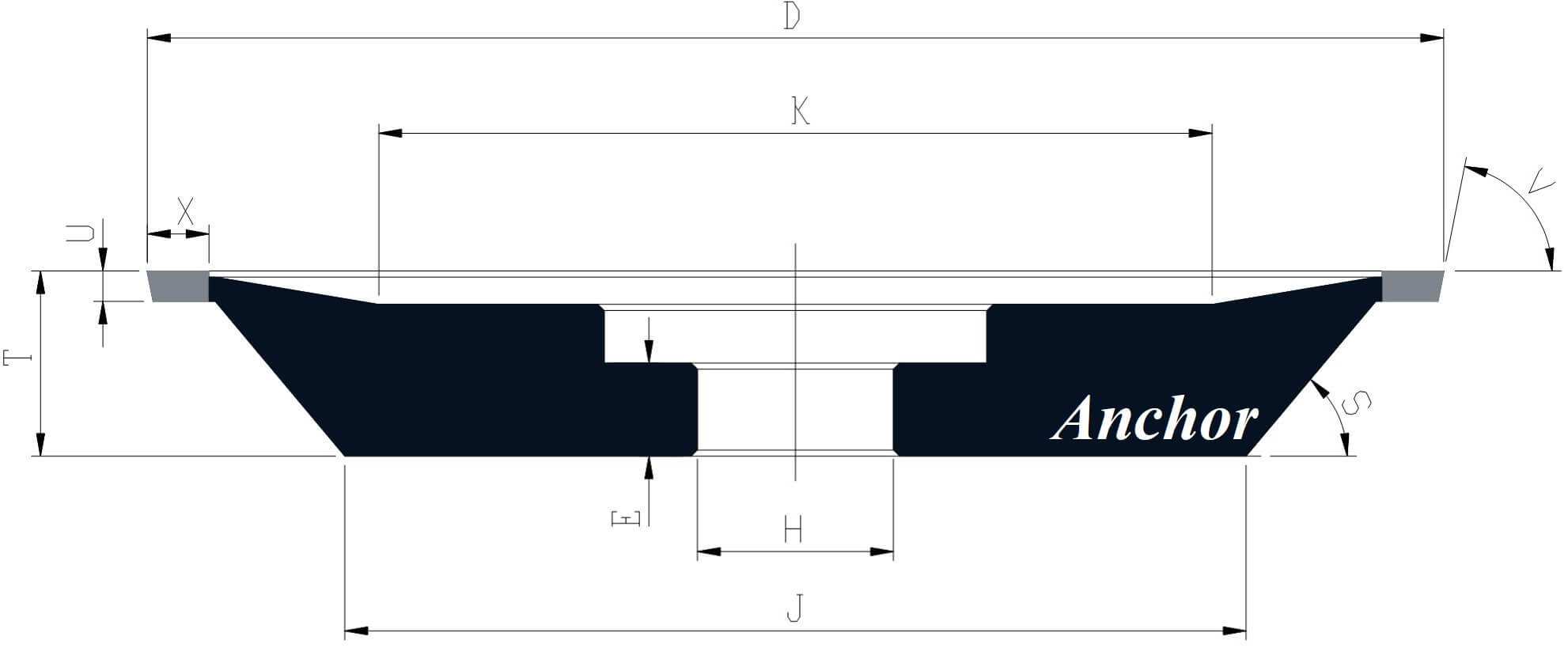 TYPE 11B9 : DxTxHxExKxJxWxXxV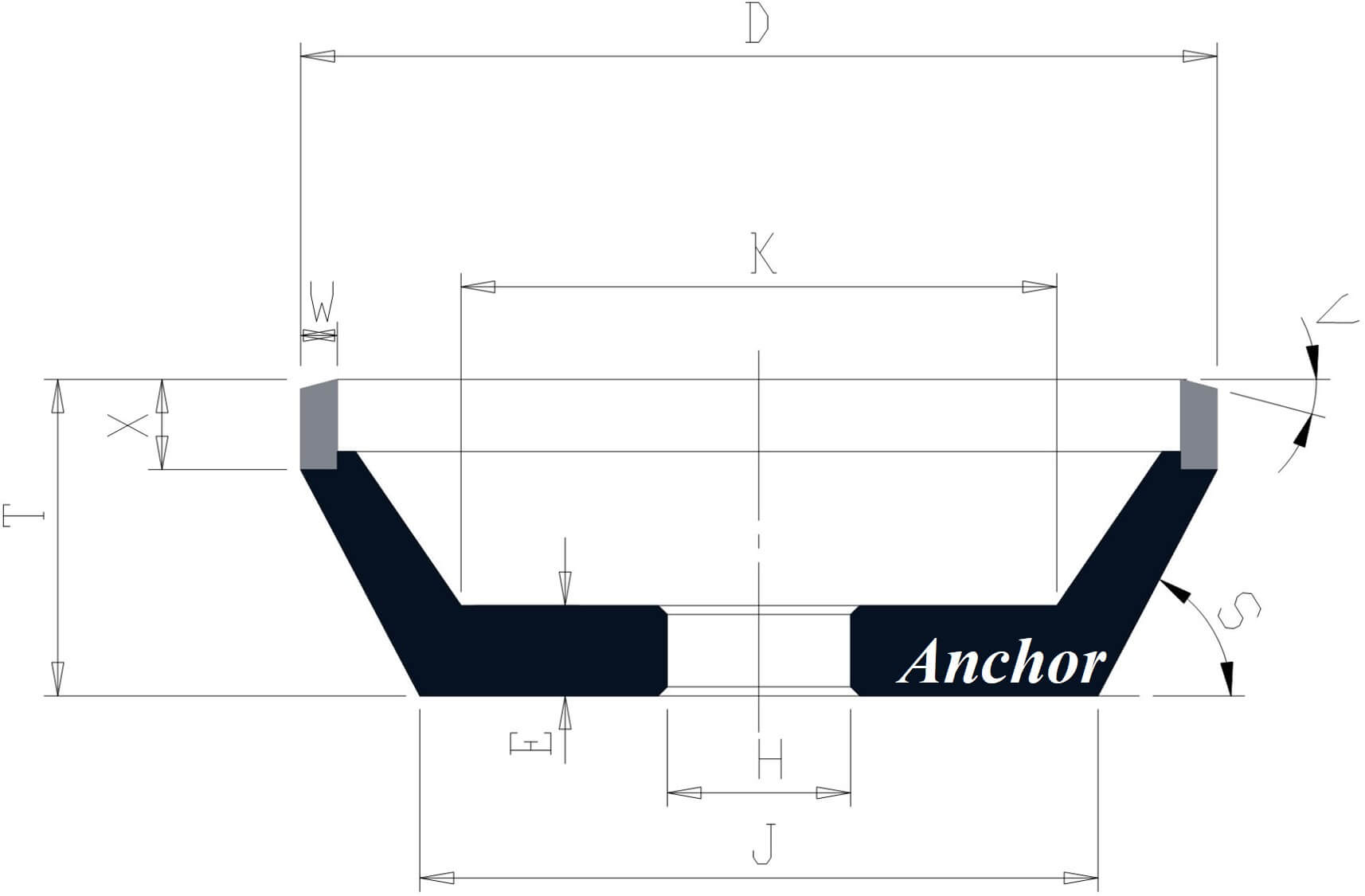 TYPE 11V2 : DxTxHxExKxJxWxXxS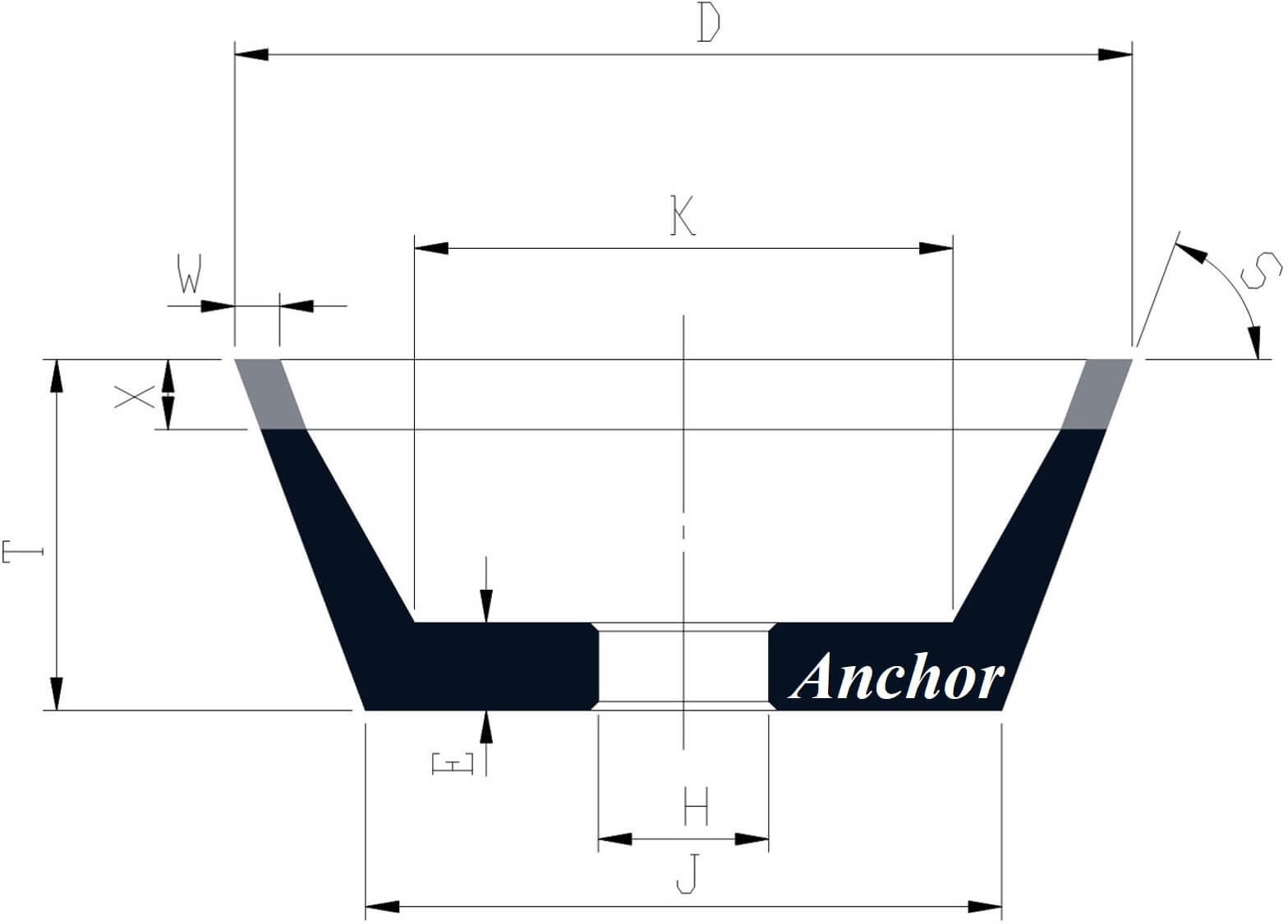 TYPE 11V4 : DxTxHxExKxJxWxXxV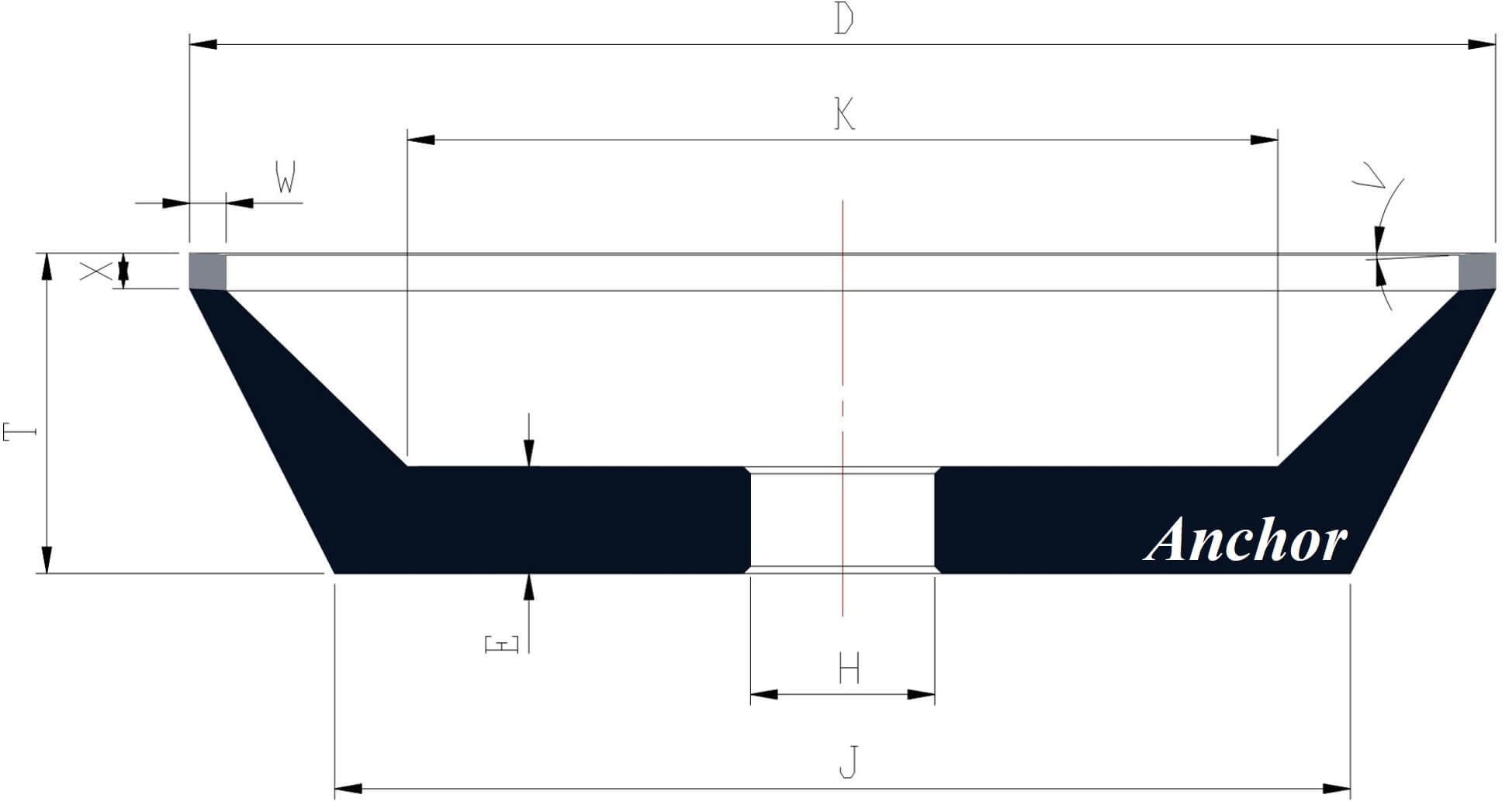 TYPE 11V5 : DxTxHxExKxJxWxXxV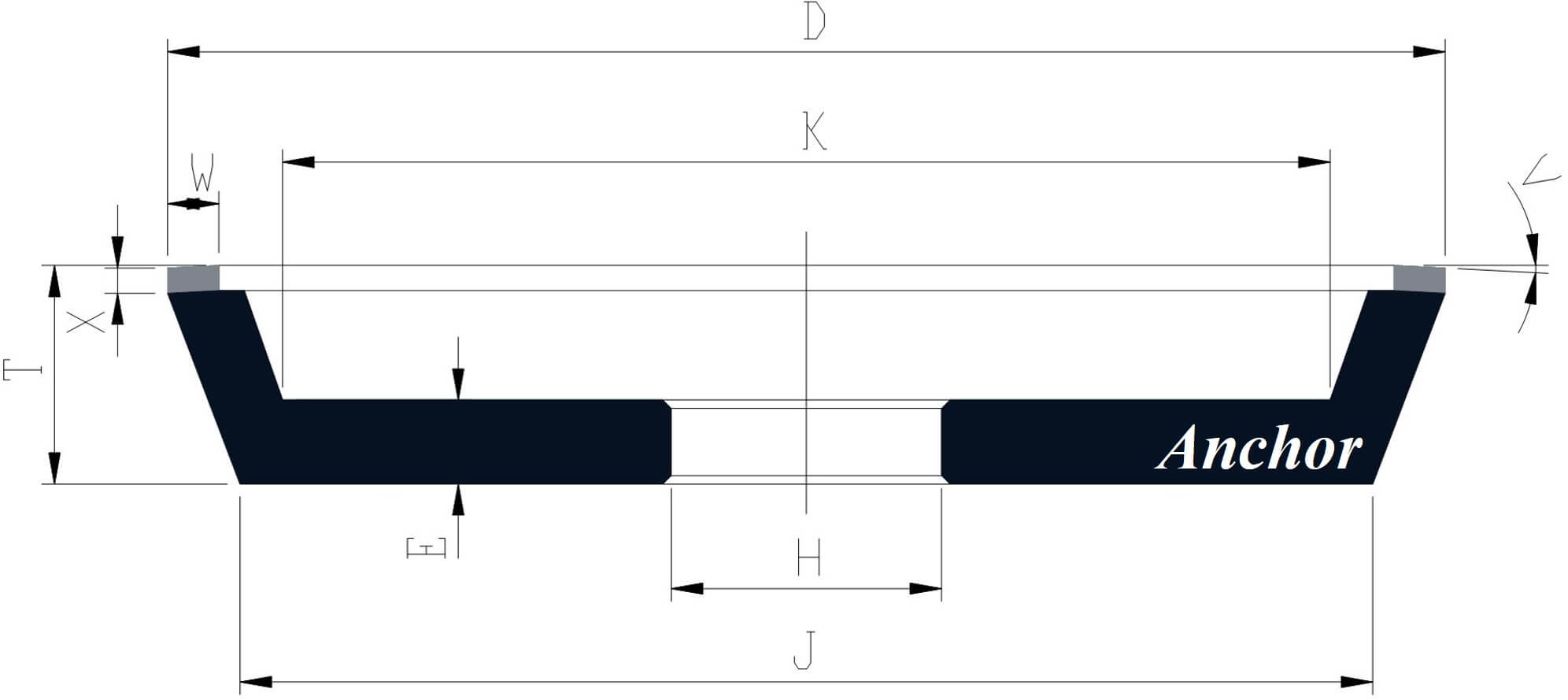 TYPE 11V9 : DxTxHxExKxJxUxXxS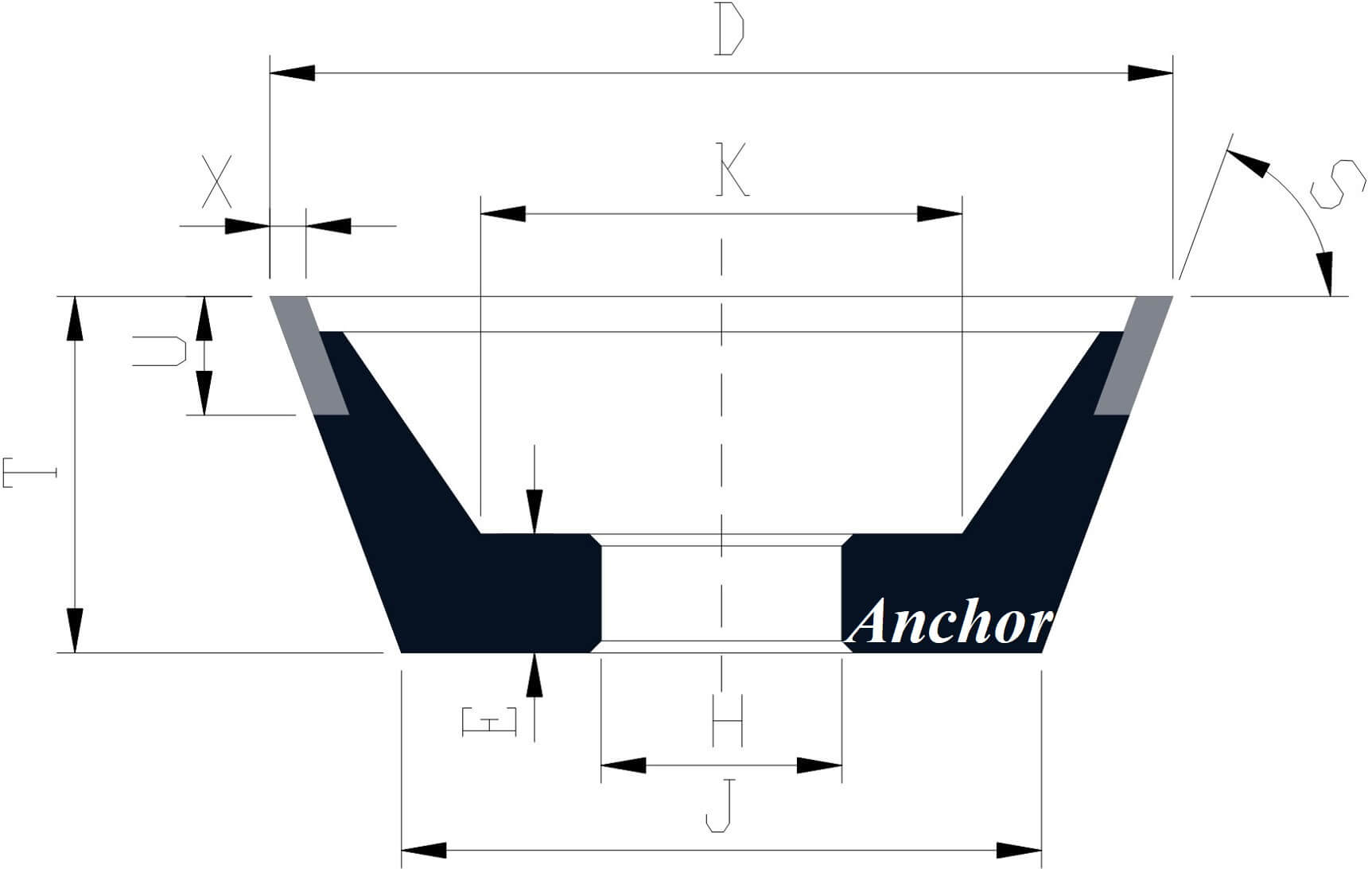 TYPE 12A2 : DxTxHxExKxJxWxXxB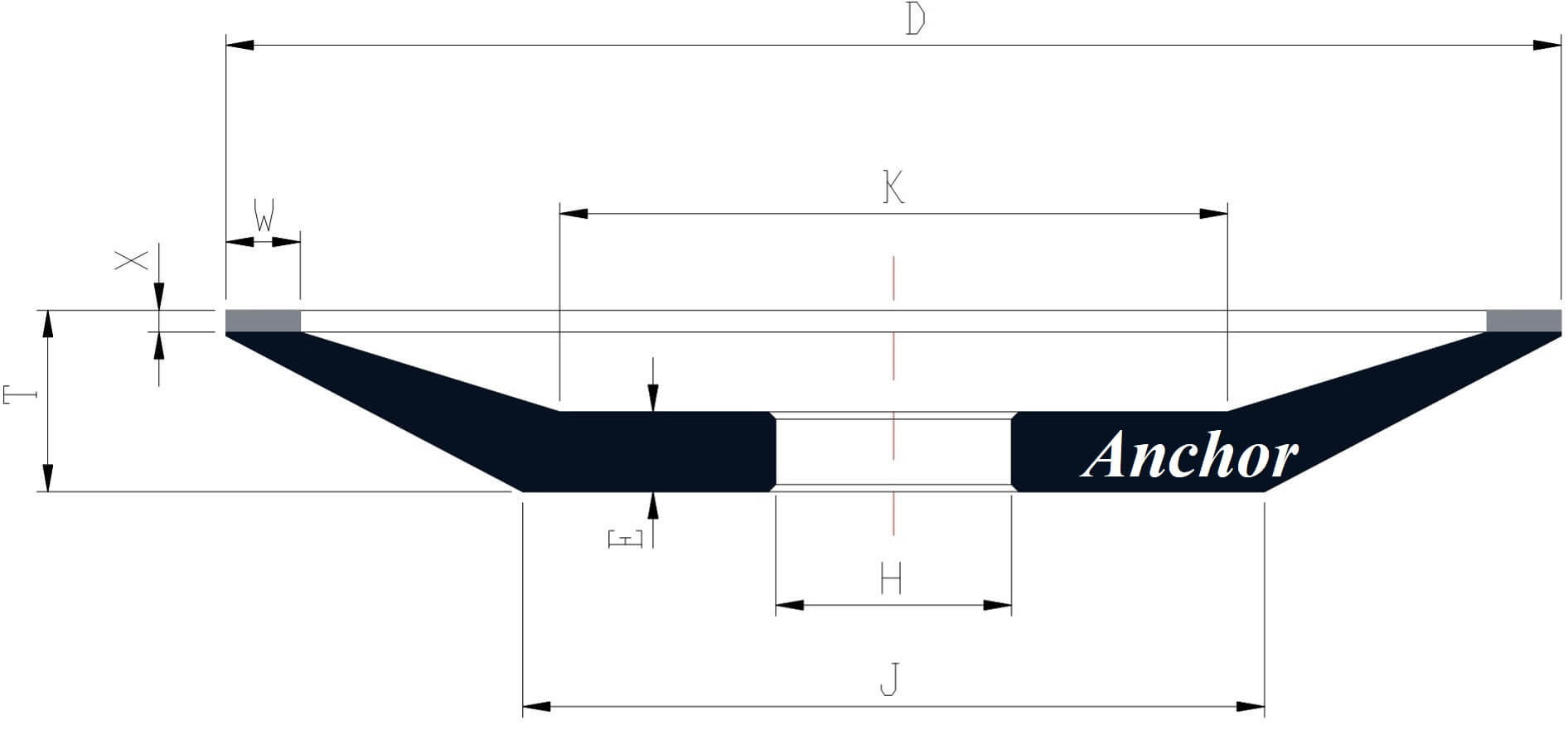 TYPE 12C9 : DxTxHxExKxJxWxUxX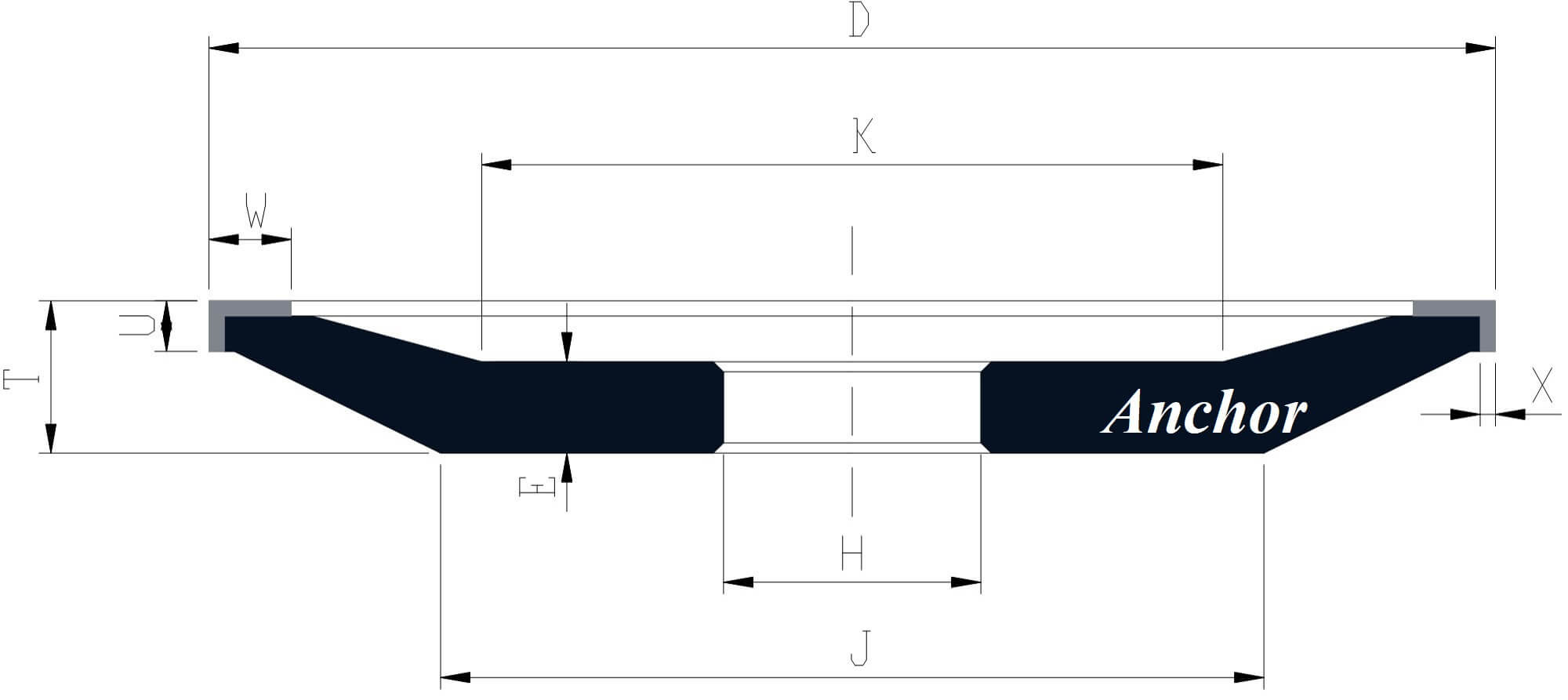 TYPE 12V9 : DxTxHxExKxJxUxXxS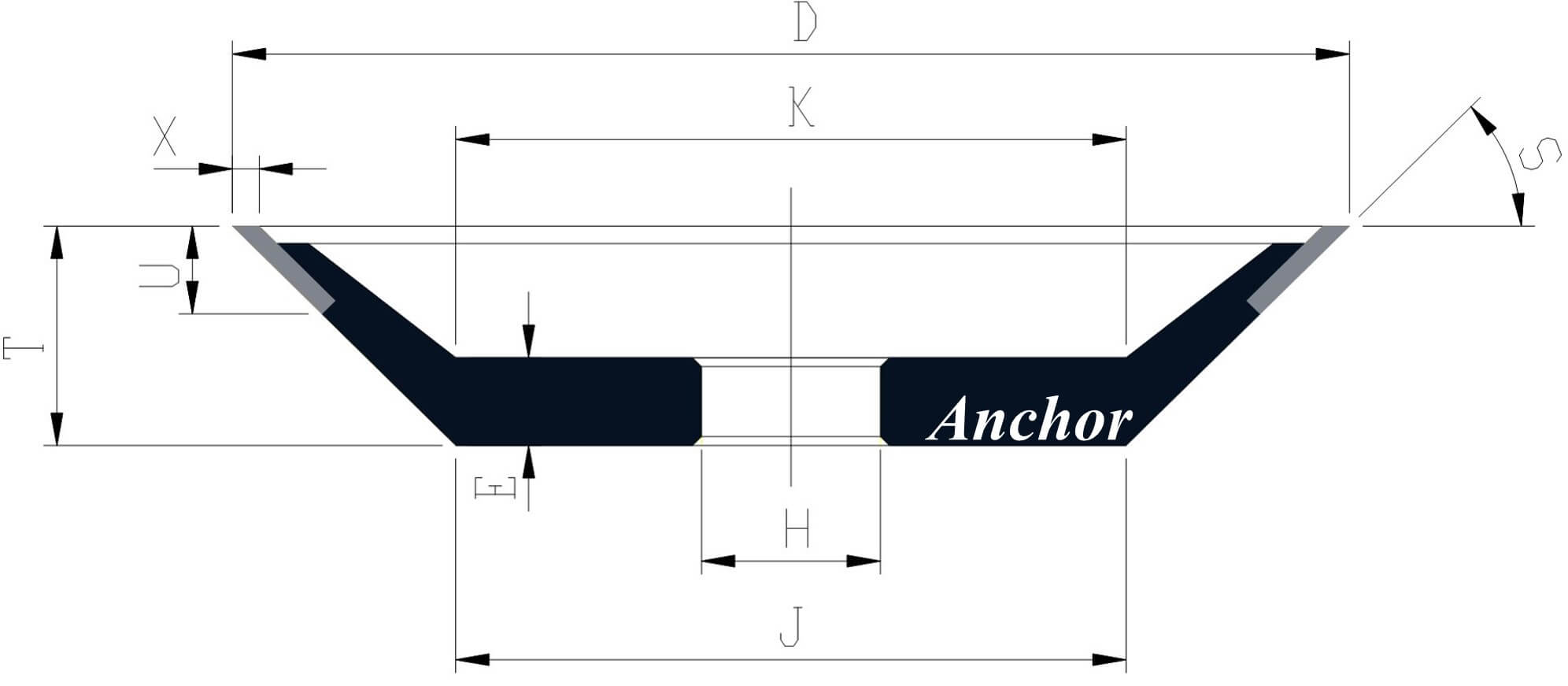 TYPE 14A1 : DxTxHxJxMxUxX

TYPE 14D1 : DxTxHxJxMxUxXxV

TYPE 14E1 : DxTxHxJxMxUxXxV

TYPE 14F1 : DxTxHxJxMxUxRxX

TYPE 14V1 : DxTxHxJxMxUxXxV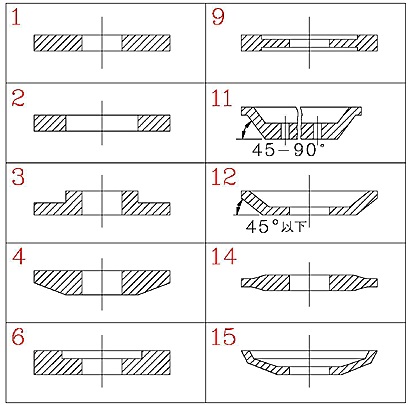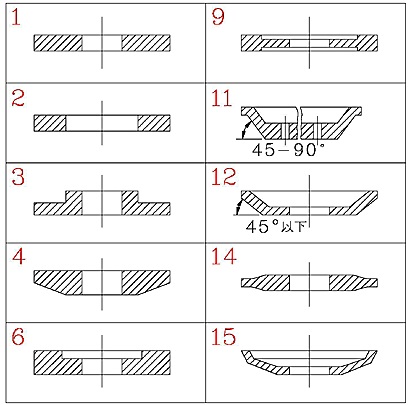 2. The Cross Section of Diamond Layer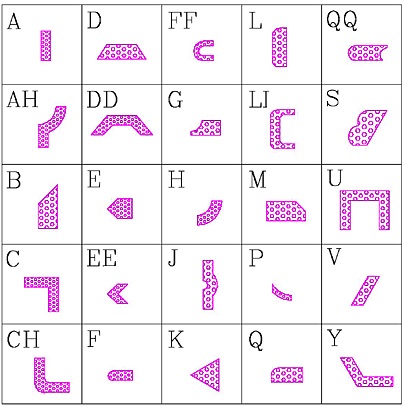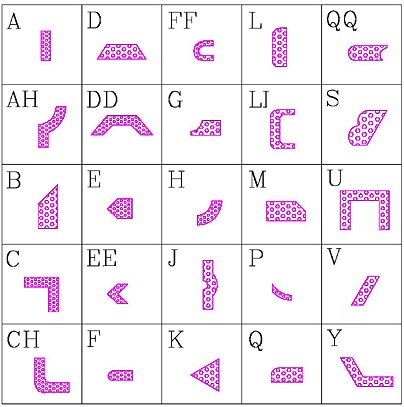 3. The Position of Diamond Layer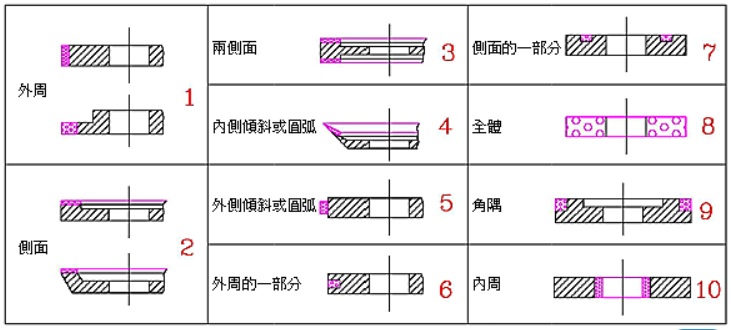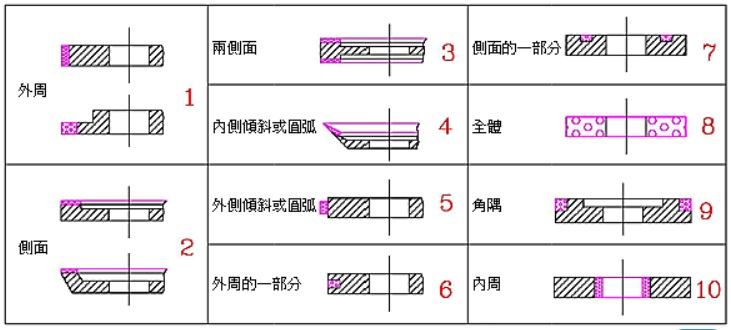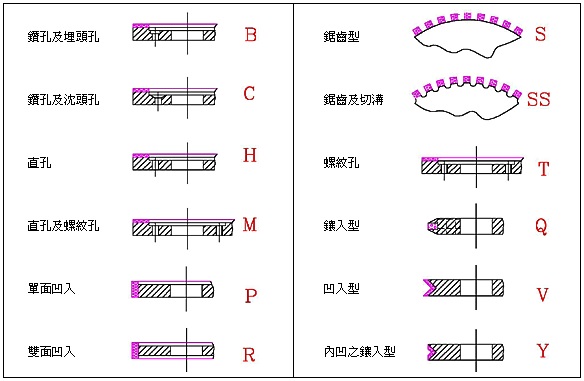 Notices for Diamond and CBN Wheel
(A)If Diamond and CBN Wheel want to exert fully excellent features, be noticed for the use:
a.Mechanical Part
(1) Precision mandrel
(2) Excellent machine rigidity
(3) Sufficient working horsepower
(4) Suitable wheel speed, crossing speed and in-feed
b.Wheel Installation
(1) Wheel hole and mechanical mandrel are compatible with H6.
(2) The peripheral run-out of wheel within 0.01mm. The surface run-out of wheel within 0.02mm.
(3) True roundness
Truing
To restore concentricity and square the face, or impress upon it some form.

Dressing




Dressing is definitely a treatment of a wheel face to restore or change its cutting action and any truing or sharpening of the face is purely coincidental.
(C)Truing and Dressing Recommendation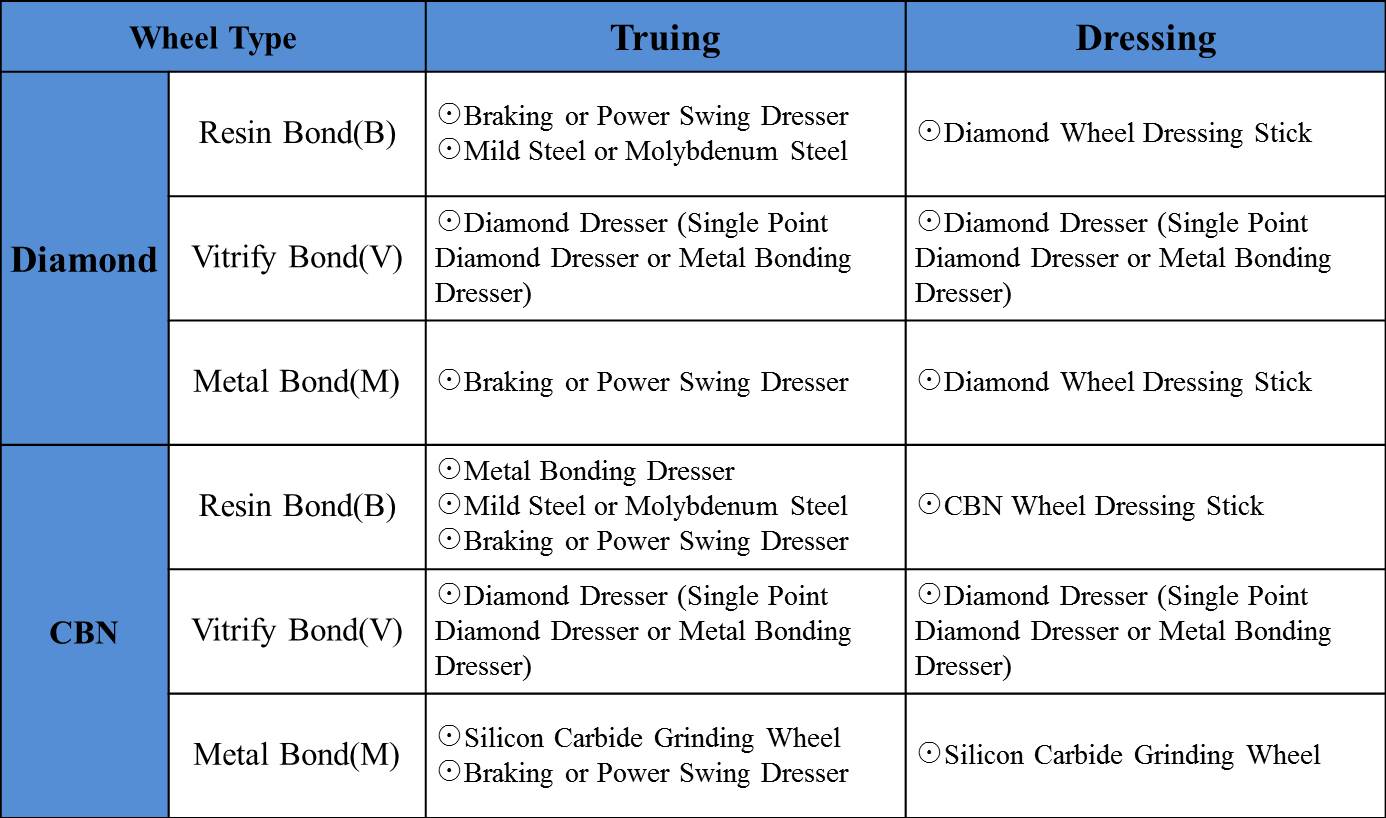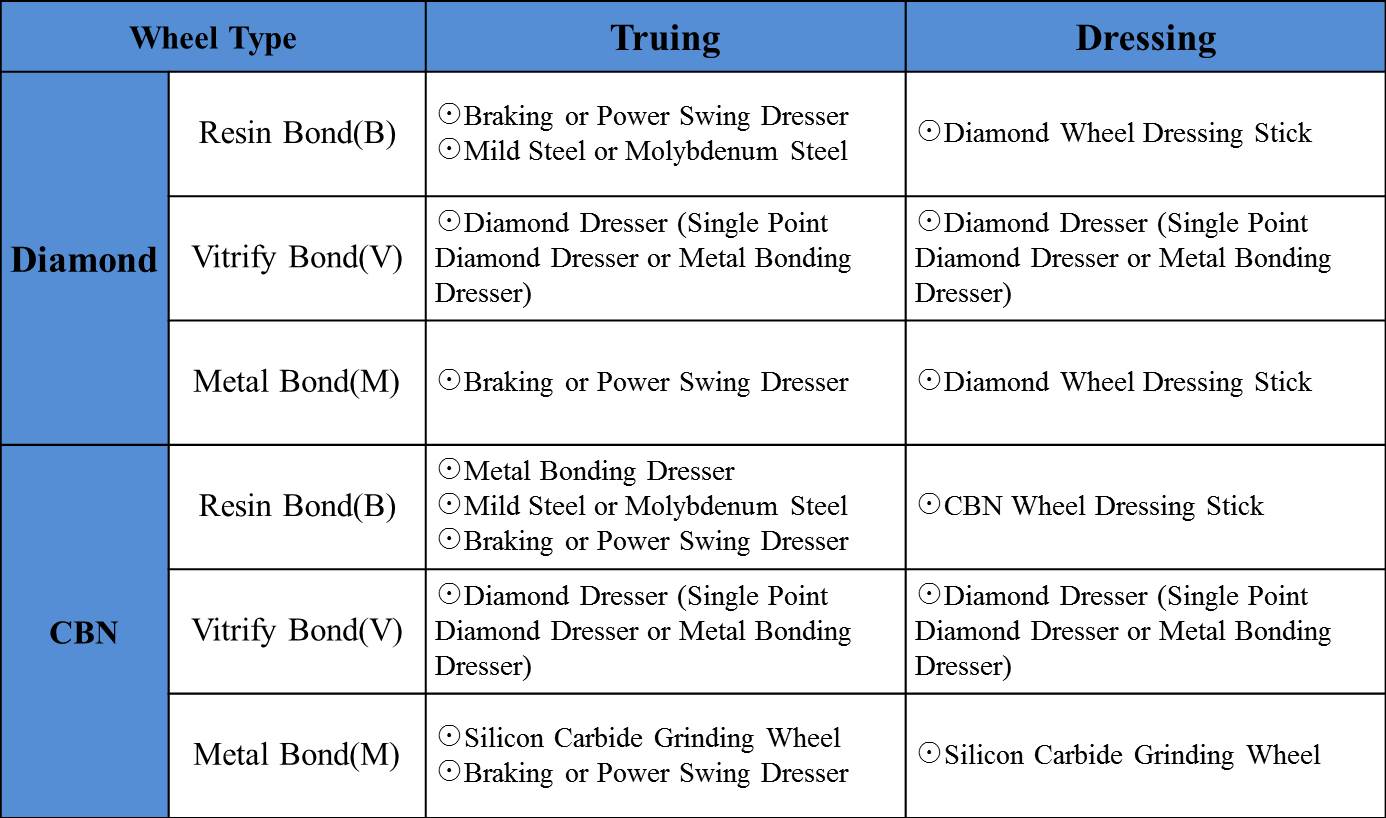 Wet grinding is adopted within the possible range (If it cannot help, a spray or air will be blew and delivered.) because coolant will have a lot of influence on the roughness of grinding surface, surface precision, wheel sharpness and wheel life.